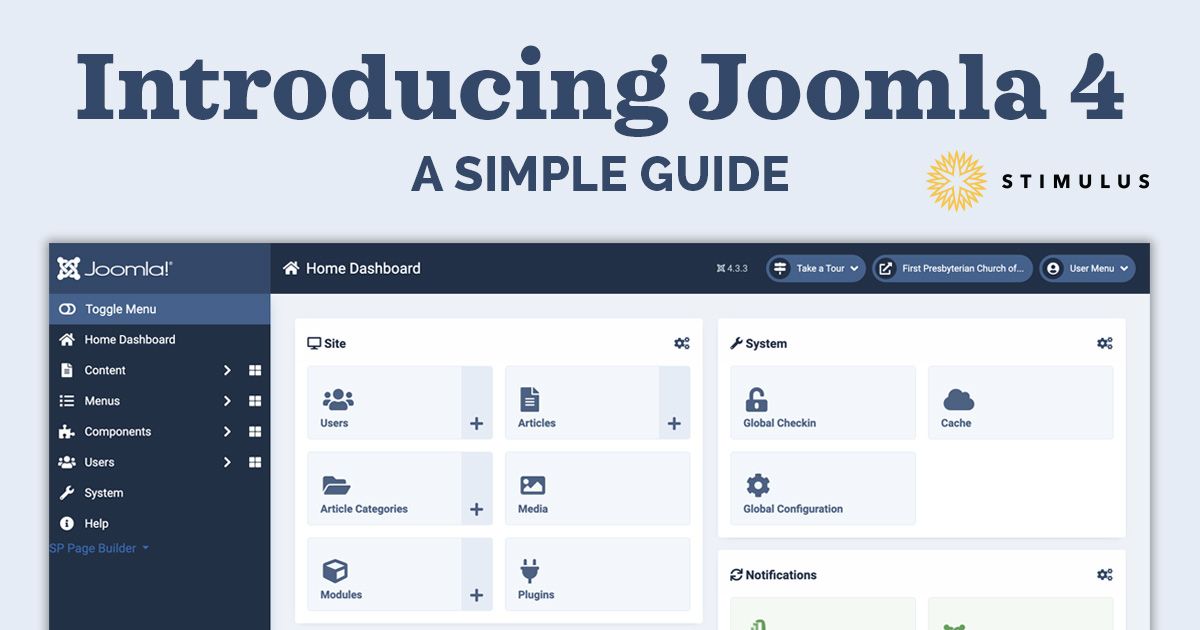 Joomla 3 to Joomla 4: A simple Guide to Help You Through
The Content Management System (CMS) known as Joomla! has launched Joomla 4, and it's time to upgrade your website to the latest version. But, what does this mean?
Like with any technology upgrade, it can be scary to think about a big update to a system—think about Microsoft 10 to Microsoft 11, or even when Microsoft 8 was introduced for that matter (what a nightmare). We can also think about the latest iOS update and how designs transform over time to enhance user experience and remain modern.
When it comes to technology, these changes are even more critical and often include some heavy design changes. You might be wondering why. Well, the short answer is that technology is continuously evolving, improving every day. From day-to-day, technology is developing and releasing new features, experiences and trends.
So, now let's discuss how this impacts Joomla! Below is a list of major changes that you will want to know about between Joomla 3 to Joomla 4. While there were numerous improvements made, we will keep it simple and list the main three changes we think you should know about.
1. Introduction to Dashboards
Joomla has introduced dashboards for the main sections of the CMS backend. Within the main dashboard, you will see key click points for popular areas of the site. These click points include a quick navigation button to Articles, Modules, Cache and much more.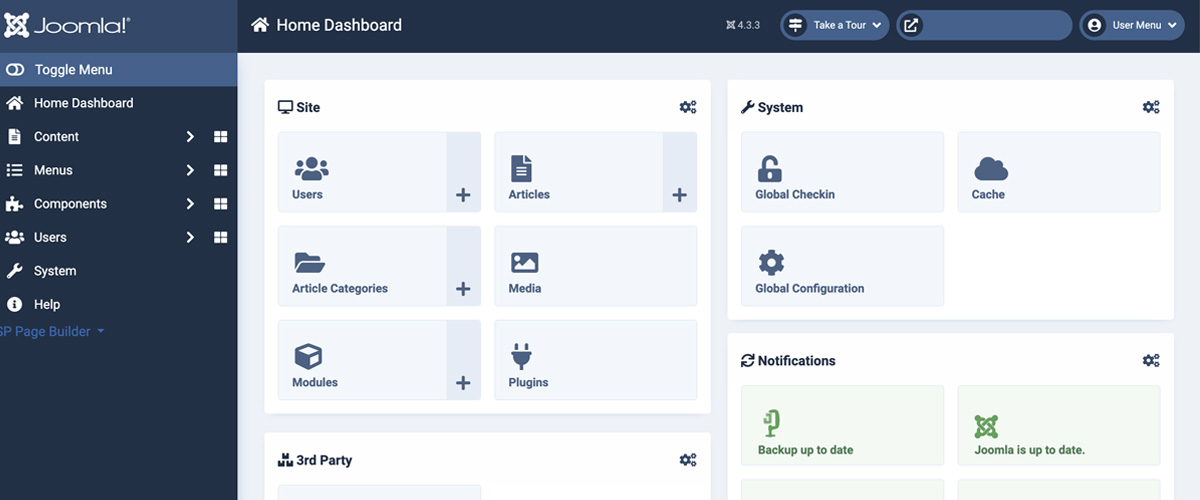 2. New Navigation Layout
Joomla 4 has introduced a more modern look and feel to the CMS as a whole. With the screenshots below, you can see how Joomla has decided to move their top menu to the side, to make for simpler navigation.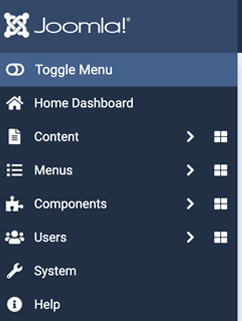 Changes to the navigation include the following:
Joomla modules are now housed under the "Content" menu.
An expanded "System" menu that includes all of your maintenance, access to Global Configuration settings and updates.

The "Components" menu has remained the same.
The four-block grid icon on the right side of each navigation opens up an individual dashboard. In the photo below, you can see the Content dashboard, which showcases the different options under "Content" as well as the "Popular Articles" and most "Recent Articles."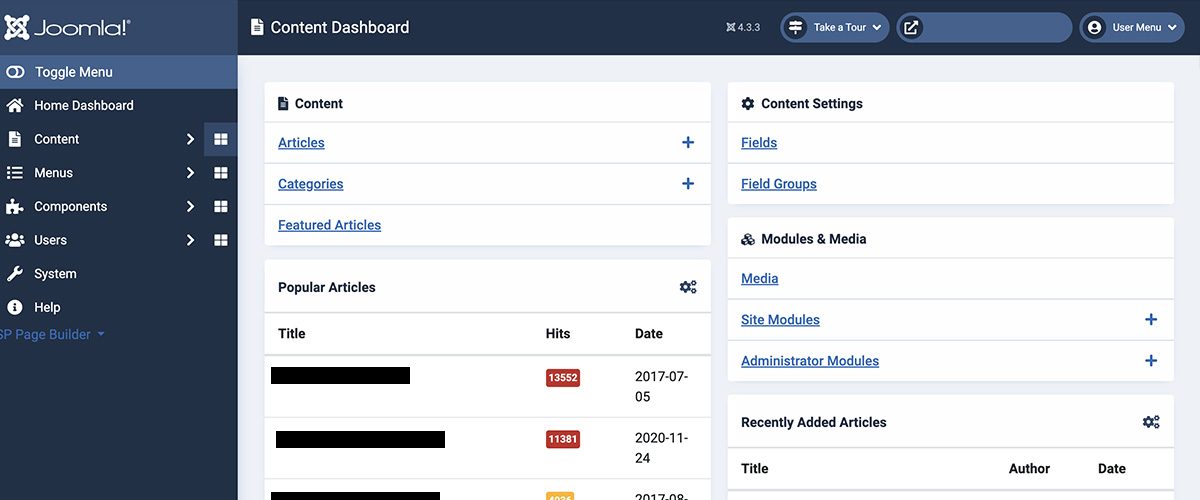 3. New Functions in Media Manager
Now, in Joomla 4, you are able to crop and resize your images all from the media manager. Although we would still suggest doing this outside of the media manager, it can be a helpful tool to have when you need to make a small edit to an image.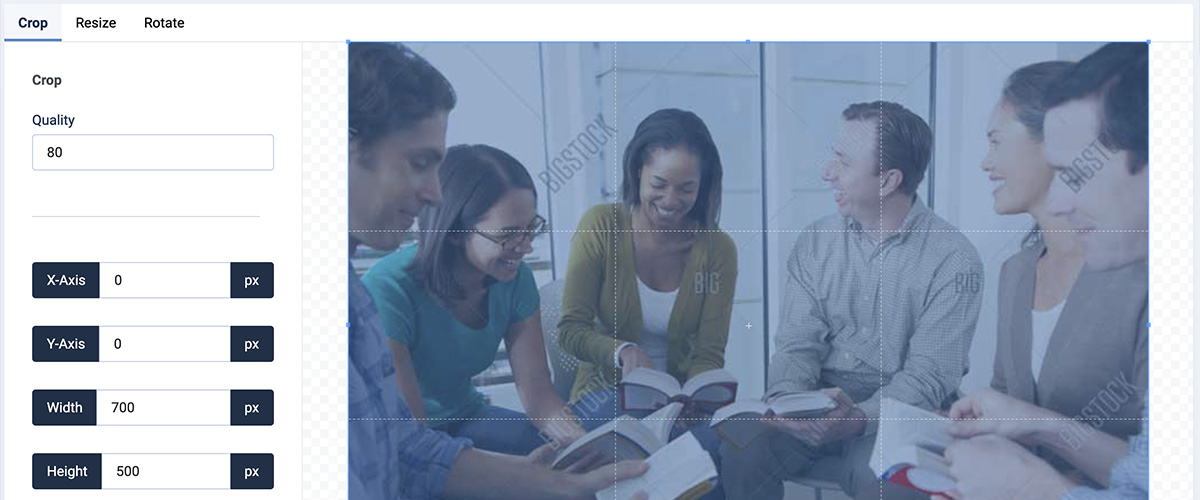 Other new features of Joomla 4 include:
Enhanced security measures to help keep your website safe from attacks
Increased speed, to ensure that your website is loading quicker. This will also enhance your site's search engine optimization.
Workflow processes to help you manage the content your organization creates
Improved internal SEO measures to help your website be indexed and found on Search Engines
Customizable Joomla email templates
Increase accessibility that aims for W3C Accessibility Guidelines (WCAG) 2.1 (with AA compliance)
We hope that this has helped you learn more about your Joomla 4 website. We can't wait to help you create and maintain beautiful websites on a platform that is expandable, customizable and able to handle your company or organization's needs.
---
Looking for an Experience Web Design Firm to Assist in Your New Website?
Look no further than Stimulus Advertising. Our team of highly-trained professionals is ready to help bring your dream website to life. Contact us today to learn more about what we can do to help your business grow and tell your brand story!