Marketing
We Challenge - We Understand - We Build - We Create
"Lighthouse" Strategy

Cohesive Execution

Precision Timing

Understanding Distribution Channels

Assuming Thought Leadership

Attracting Customers
Define | Develop | Master | Deploy | Overtake | Lead
Proven Success
In this economy, every dollar counts, which is why it's essential to spend your capital on marketing that is both strategic and tactical. Relationship marketing, word of mouth and passionate brand ambassadors have taken over as the top strategies to gaining business exposure. Today's markets call for clear messaging and look for a strategy that will draw your clients to you. At Stimulus, we call this idea the "lighthouse" strategy and strive to create a concise message that will not only bring more customers to you, but keep them coming back for more.
As a full-service marketing agency, Stimulus ensures that each and every service is optimized to give both you and your customers the richest experience possible.
Strategic Marketing
Excellent marketing requires an excellent game plan. That means throwing out cookie-cutter solutions, because you are not a cookie-cutter business. Your business is unique, shouldn't your marketing strategy be too?
Stimulus believes in starting at the very beginning. We take a look at your business plan, current customer demographics, desired customers as well as your weaknesses and competitors. Our goal is to create a marketing strategy that helps you and your business come out on top. For a winning go-to-market strategy, it is important that from the time of product/service creation to the time of product/service launch there is no margin for error.
The rapid commoditization of complex solutions calls for a concise marketing strategy and timely execution; yet many companies are finding their best sales and marketing strategies highly diluted by the time they reach the customer. Let Stimulus help you from strategic marketing to tactical sales strategies, from field implementation to the deployment of complex sales solutions.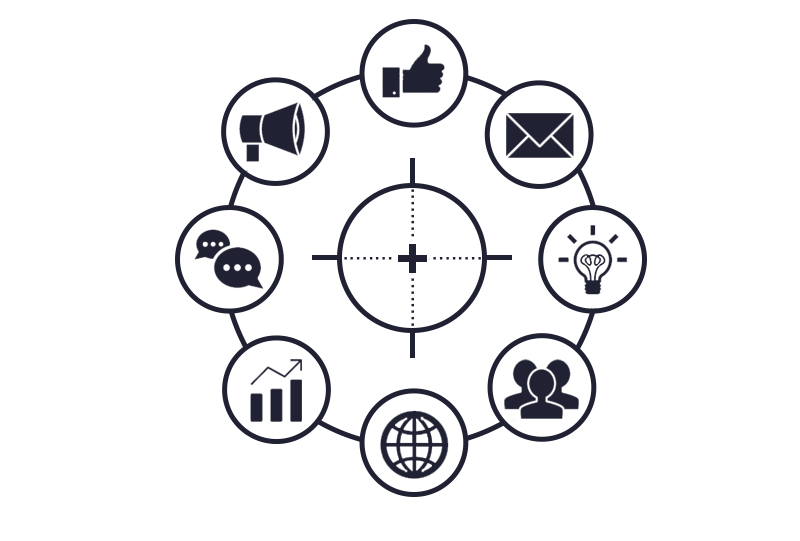 Tactical Marketing
Being a full-service agency allows for you to have intense, integrated marketing tactics that relay both your marketing position and brand message to your client, causing a seamless experience that will resonate with your clientele.
Our tactical marketing strategy focuses on using the best tactics for your business to see the results you want and need. We utilize research and our 30+ years of marketing experience to help you pick tactics that will get results.
Already have an in-house marketing department? No problem! Our goal is not to take over, but instead to assist your team in finding the right tactics and creating the best messaging and imaging to reach your business goals.
STIMULUS offers a set of marketing tools to help clearly define goals, needs, opportunities, strategic plans, vision and tactical strategies.