Partnerships
THE BEST AT WHAT THEY DO
We believe in consistent quality, artistry and on-time delivery.
The following partners are winners in their particular niche and specialty

Mark Bric
is an authorized dealer for
trade show displays
,
Banner-Up
and other items. Their experience in the trade show and retail display industry has taught them exactly what to look for in a successful display. It started in 1971 when they revolutionized size indicators on hangers in clothing shops. This simple technology radically simplified life for shop assistants and customers. Then we created a classic, versatile framing system in 1985 that's still used today. And that's been our mission ever since—creating quality solutions that last. Over time, we've developed a complete suite of easy-to-use, reliable, and cost-effective displays to make displaying your brand simple and stunning.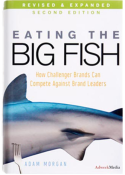 We learned a great deal from Adam Morgan and utilize his challenger branding methodology in our processes. We suggest that you purchase his book "Eating the Big Fish" on "Challenger Branding" from Amazon.com
It contains over 25 new interviews and case histories, two completely new chapters, introduces a new typology of 12 different kinds of Challengers, has extensive updates of the main chapters, a range of new exercises, supplies weblinks to view interviews online and offers supplementary downloadable information.

Ansel Press Printing & Packaging understands the dynamics of communication and has the manufacturing expertise to set your company apart, allowing you to penetrate the marketplace in unprecedented ways. For almost a half a century, we have earned our reputation as experts at professionally and creatively packaging the printed word. From a new product introduction campaign packaged in a way that gets results, press release kit, CD or USB mailer, or sales kit – we are your single source for all of your packaging solutions.
We are Manufacturer Representatives of The Production Center (Bruce Fasick). Creative services for illustration, painting, ink and sculpture...Production and creative consulting for; Folders, Binders, Boxes, Banners, Multimedia, CD, DVD, P.O.P, Corrugated, Vinyl, Turned edge, Poly, Paperboard, Offset, Screenprint, Digital, Foil Stamp, Direct Mail, Kits, Education, Training, Associations, Information , B2B, and custom packaging.

Technical Services Group provides bulk mail, presort, labeling and inserting services for mass mailings of quantities from hundreds to hundreds of thousands. We provide variable data processing, printing and inserting. TSG has offset presses and high-speed laser printers along with experienced operators and skilled craftsmen ready to fulfill your order. We provide full-service shipping for all of our fulfillment customers. Whether you want it shipped UPS, FedEx, or USPS we have online computers for each, waiting to ship your orders. We also ship via Freight for large shipments on skids or pallets.
Our unique set of partnerships and business relationships give us some of the best quality products in town!