Walker Commercial Services
Web Design - Event Registration & Property Management System
Going Once…Going Twice…
It is not every day that Stimulus gets to go to an auction, so when Walker Commercial Services contacted us, we were more than ecstatic! Having worked with a handful of local clients on their property management systems (including rental properties, apartments and other living spaces), we felt more than qualified to help Walker Commercial with their website project.
The Project
Walker Commercial of Roanoke, Virginia had a two-fold need for their website: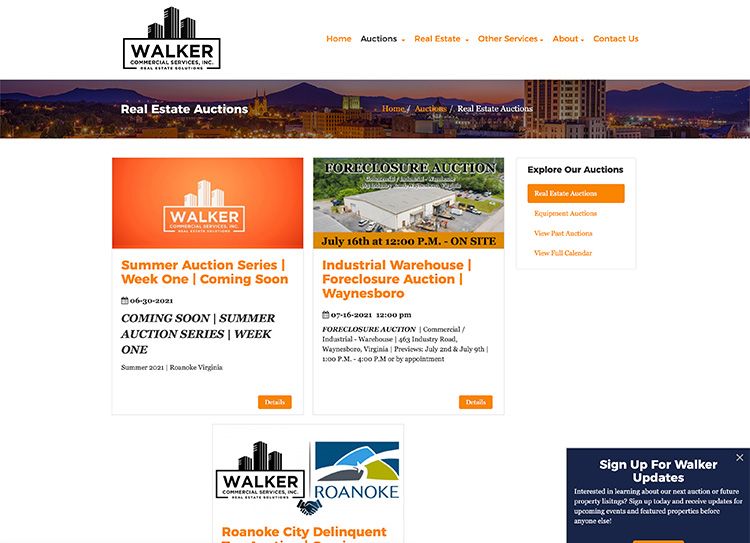 1. Auctions
The site needed to be user-friendly. There needed to be a way for those interested in auctions to be able to find the upcoming ones quickly. Lastly, Walker needed a way for visitors to register for these auctions.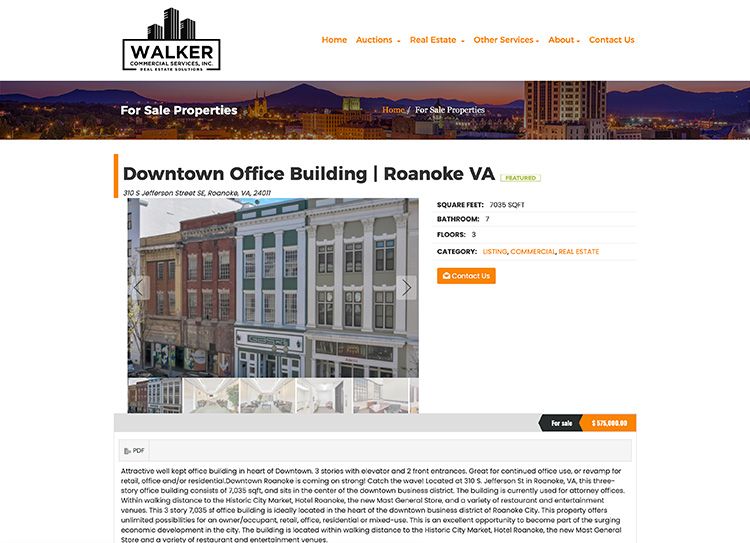 2. Property Management/Listings
Not only does Walker Commercial do auctions, but they also do property management and real estate for both commercial and residential properties. They needed the website to showcase this in an eye-catching format while also being functional and user-friendly.
There is no Place Like Home
Using the powerful Joomla! framework, we were more than confident that we would be able to give Walker Commercial Services what they requested. The first step was to go through Walker's previous site and determine the proper menu tree and work through the home page layout. We noticed that on their previous site, Walker's home page lacked any type of positioning and identity. While the content was on the website, there was no clear hierarchy, and the important details/information was housed at the bottom of the site.
Working with Walker Commercial Services, we pushed to get a brief statement of what they did. We made sure that that phrase was present at the top of the website. We also made sure that people who wanted to know more about the company were able to easily access that information.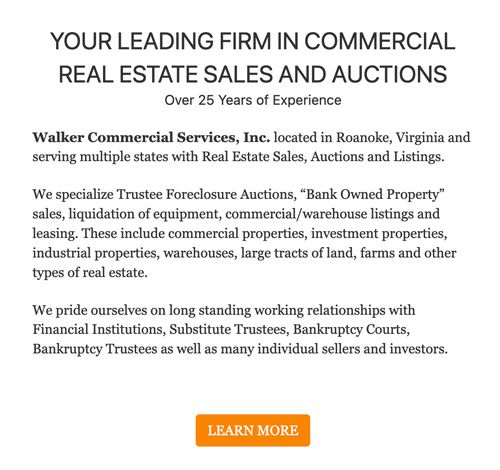 Let's Go to the Auction
As stated earlier, the auction portion of the site had the following goals:
A way for visitors to see upcoming auctions

The ability for Walker Commercial Services to add necessary details about the auctions

A way for visitors to register for auctions or contact Walker Commercial for more information
After talking this through as a team, we determined that an event registration system would be the best way to achieve the goals of the auction section. This system would include a calendar to show all upcoming events, a way for visitors to add the event to their personal digital calendar and also a way to register for the event.
Walker Commercial also utilized Bidwrangler as a way to host online auctions. We added a custom link field to the system, which allowed Walker to insert unique URLs for each auction. This appeared on the event details as a button that said, "Register to Bid Online."
Love it or List It…Walker Style
It's important for a website that is housing properties (get it?) to be clean and organized. People should be able to find whatever they are looking for quickly and efficiently. From there, they should also be able to easily contact the proper agent to get more information. Our property Management system allowed Walker Commercial to achieve just that.
This system features many different functions, including:
Full Category of Property Types

List of Features and Property Details

Agent Associated with Property

Ability to Share Properties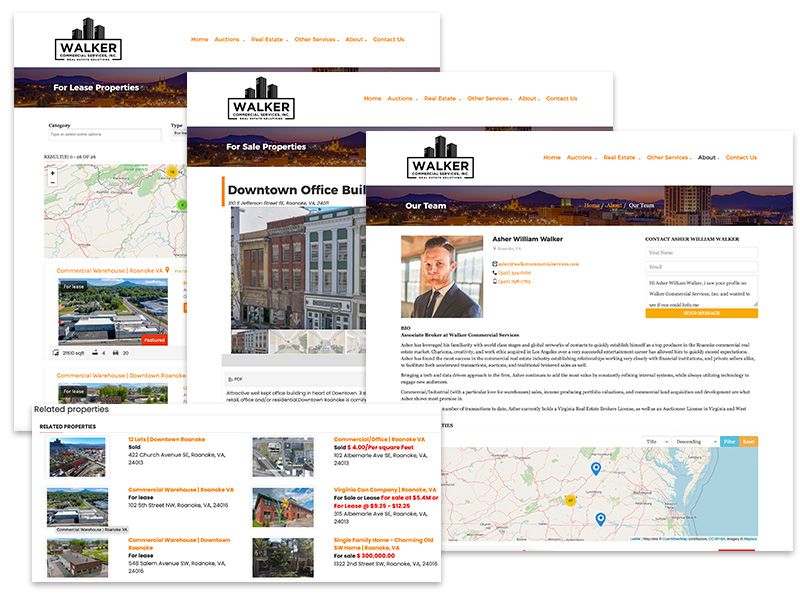 This property management system also featured a very friendly front-end editor for Walker Commercial to be able to upload properties, edit details and change their status.
The Finale…SOLD!
Altogether, Walker Commercial Services ended up with a website that was functional, visually appealing and effective for their needs. This website also has the ability to continue to grow with them. But once again, it is always easier to show instead of trying to explain. Just know this, if you like what you see, you should definitely give us a call! Whether you are a realtor, property manager or construction company, CONTACT US and let us help you with your property management project!