First Presbyterian Church of Lynchburg
Integrated Marketing Campaign
When our client, First Presbyterian Church of Lynchburg (FPCLY) reached out to let us know that they would need help promoting their Capital Campaign, we were more than ready to assist! Like many other churches in the area, FPCLY was greatly impacted by the COVID-19 pandemic.
 Although not holding in-person services, the church was in bright spirits about what the future would hold. They decided that it would be a great time to take care of some much needed building renovations as well as raise some funds to support future mission initiatives and new church programs.
The Goal
Stimulus was tasked with creating multiple print collateral pieces to assist FPCLY with raising awareness for their capital campaign. We also needed to reflect the information on the website for people to access the information digitally.
The Process
The first step of the process was meeting with the client to get more information about the actual goals of each deliverable. After the meeting, we were in a much better space to begin working on all of the needs of the client.
Branding: Logo Development
In order to get this Capital Campaign started, First Presbyterian Church of Lynchburg knew that they needed a theme. They came up with the slogan "Rooted & Reaching" as a way to engage their target and celebrate what this campaign meant. This stood for:
Rooted in our past, Reaching for our future
We took this slogan and turned it into a design that they could use. With the tree representing both being rooted and growing, we were able to help FPCLY capitalize on this phrase in a visual manner. We also utilized their current branding to make it feel like it belonged.
Logo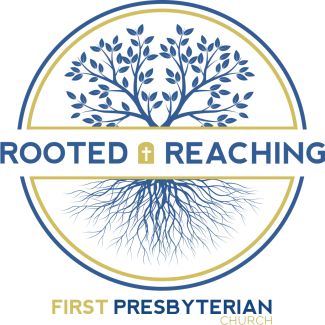 Color Palette
Fonts
Kick-Off Event: Direct Mail & Outdoor Progress Display
First up was a direct mail piece that would let people know about the campaign. Paired with an event, FPCLY wanted to let members, and those within the community, know that they were hosting a kick-off event for their capital campaign. They wanted to get others excited about what was happening and to get people within the community to start asking questions.
Although there were social distancing and limitations on attendance, FPCLY was super excited to host this outdoor event and wanted to make sure that as many people could come. This first task was simple, and we knew we didn't need a lot in order to help make the event successful.
We determined that all we needed to do was create a postcard that had the event details and a way for members to RSVP to the event. By adding a QR code to the postcard, we seamlessly integrated the website into the print pieces.
We utilized the website to add more information about the event. It also served as the space for visitors to RSVP to the event using our custom form make—aiContactSafe.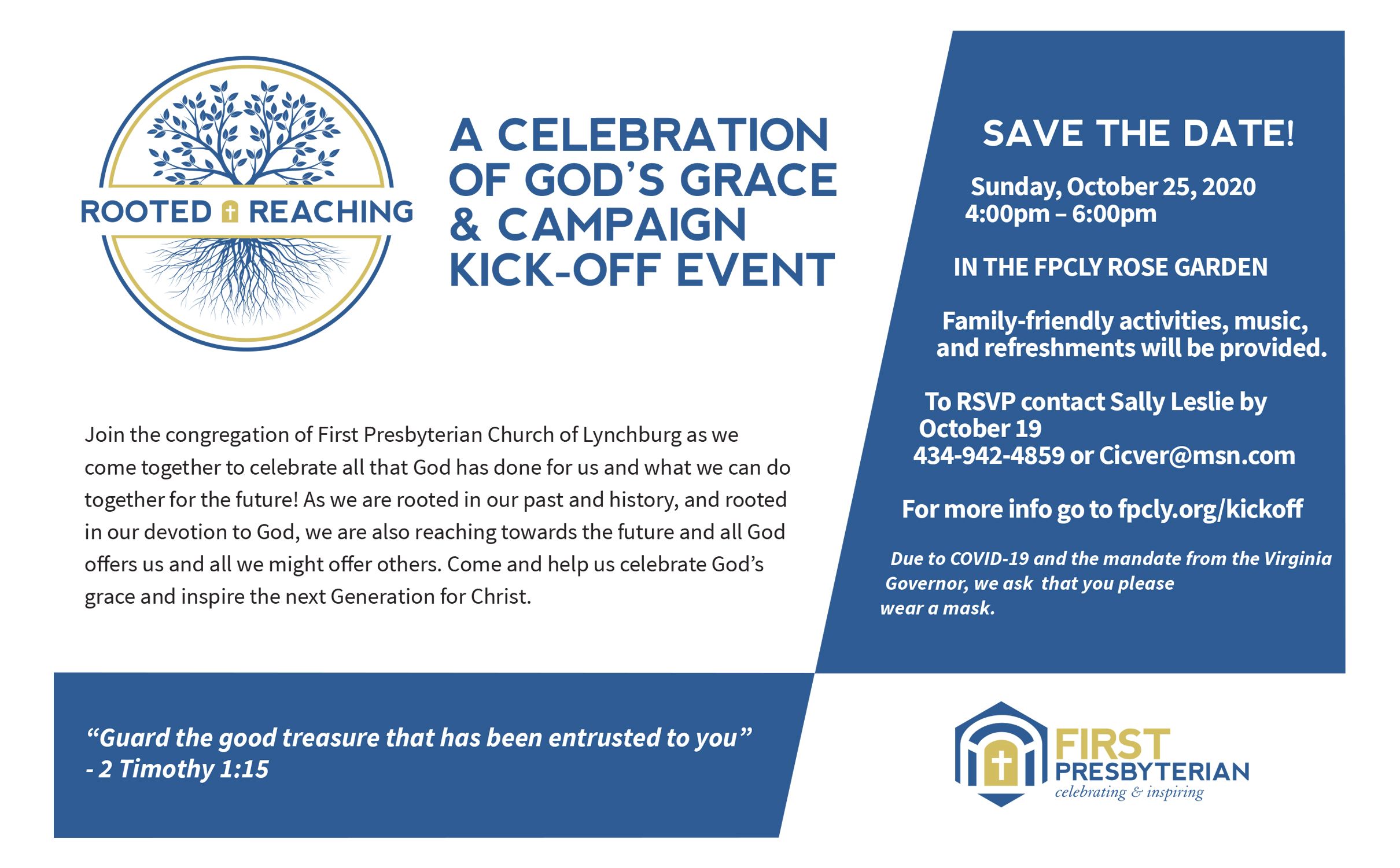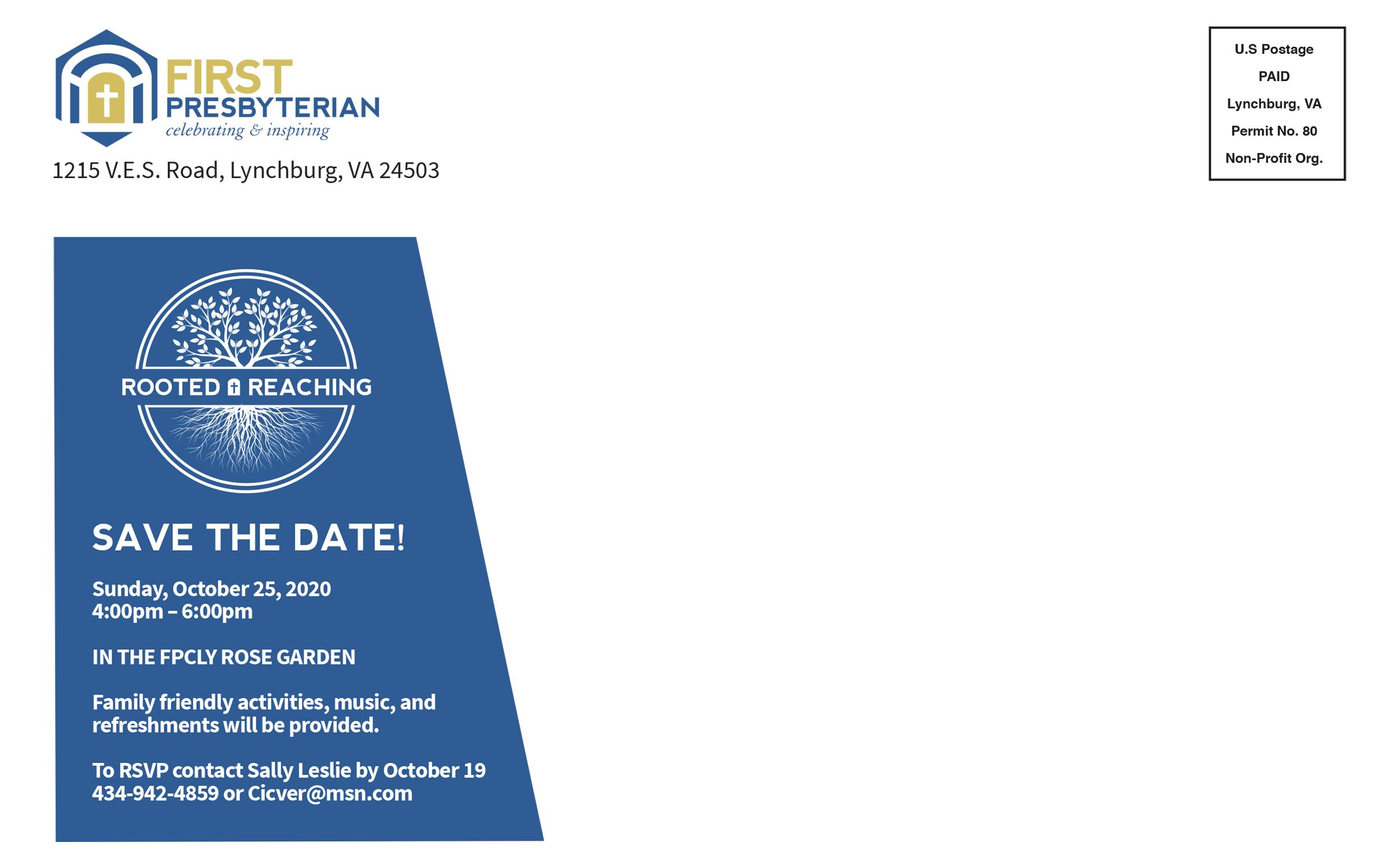 This kick-off event also featured an outdoor progress display that would allow FPCLY the opportunity to show people how much money was raised. Connected to the logo and other promotional materials, this banner featured the same color and phrasing as other pieces. It too featured a QR code so that people who came across it would be able to learn more about the campaign.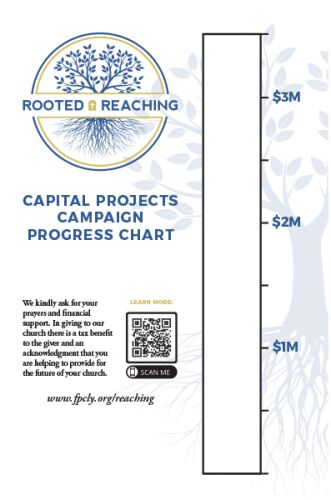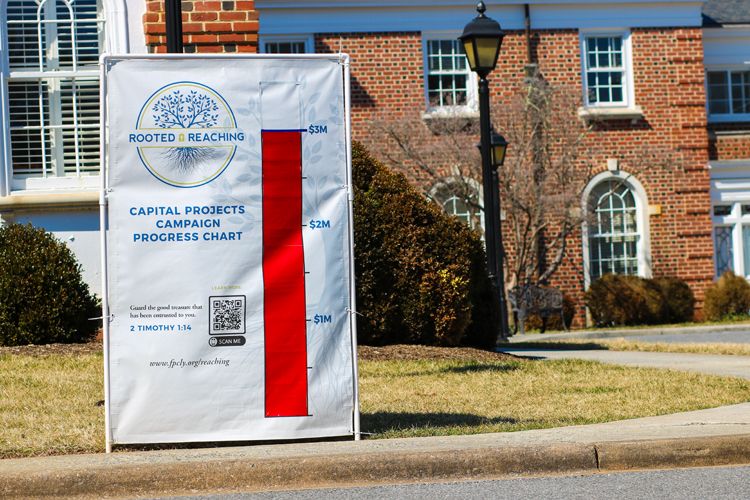 Side note: As COVID continued to impact businesses and restaurants, this practice with QR codes has become vital to implementing contactless solutions for customers and guests.
Conversational Pieces: Print Collateral & Website
The next step was working on the pieces that would assist FPCLY in holding conversations with those who wanted to support them. The deliverables for this included a brochure, booklet and web page that would give those interested more information and a way to schedule a visit.
The main conversational piece was the booklet. This booklet served as a guide for FPCLY representatives to hold a conversation about the capital campaign with specific individuals. It was also a nice coffee table piece that could be kept and looked at throughout the year.
From the booklet, we were able to shape the website and the brochure. Both of these pieces carried similar styling and wording. The brochure was a quick piece that could be picked up at the church and just held the main information of the campaign. It also contained a QR code leading you to the web page dedicated to the capital campaign.
The web page was a fun way for people to connect and see the overall campaign goals and focus. This page allowed visitors to schedule a visit from an FPCLY representative and also contained a thermometer for campaign success. Testimonials from the community were also added for people to view and read.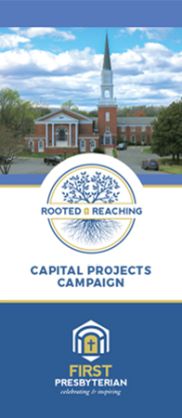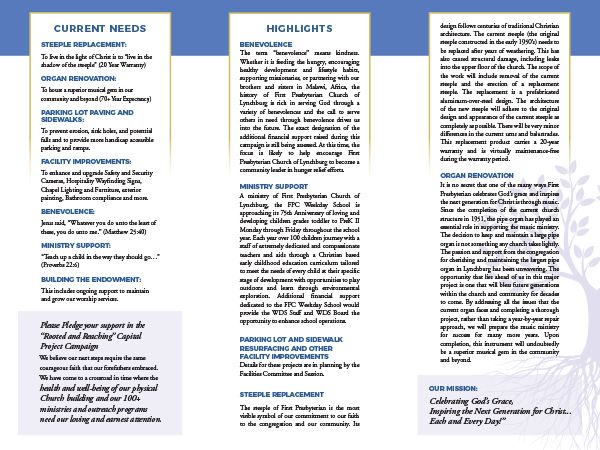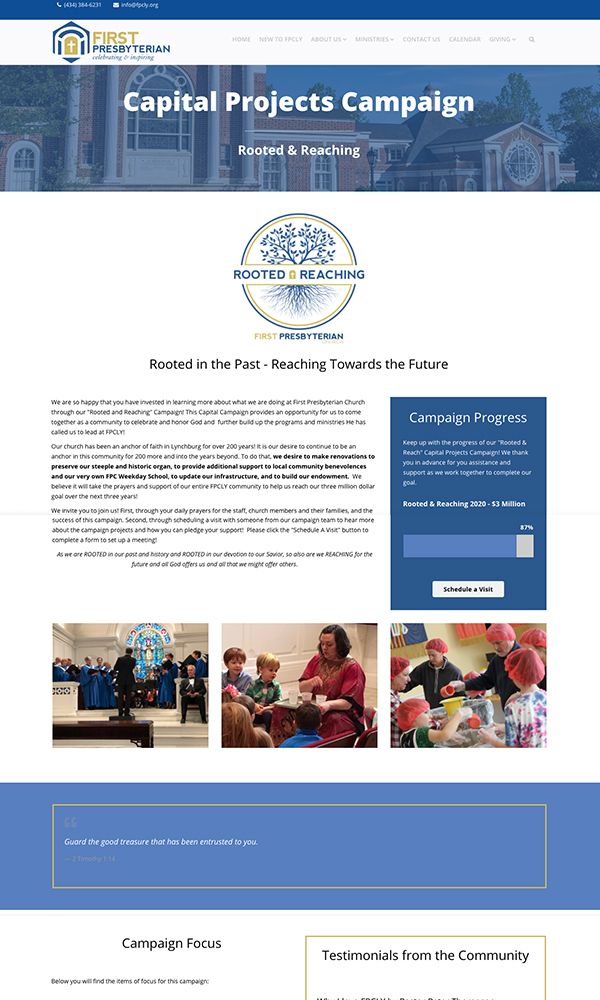 Overall, this campaign was a complete success. Within a month, FPCLY had already reached over half of their goal. The booklet was a great way for them to present the campaign and the overall campaign worked out well. They had plenty of guests at the kick-off event and were even able to get some pledges solidified shortly after.
We were so happy that we were able to help our client achieve their goal of raising $3 million and are excited to see the changes that they can bring to our community.
Whether it's raising money or another interactive advertising project, work with a team you can trust!