Social Media Services
Creating an expansive online presence

Are you engaging and building your organization in the world of social media???
The Four E's of Social Media!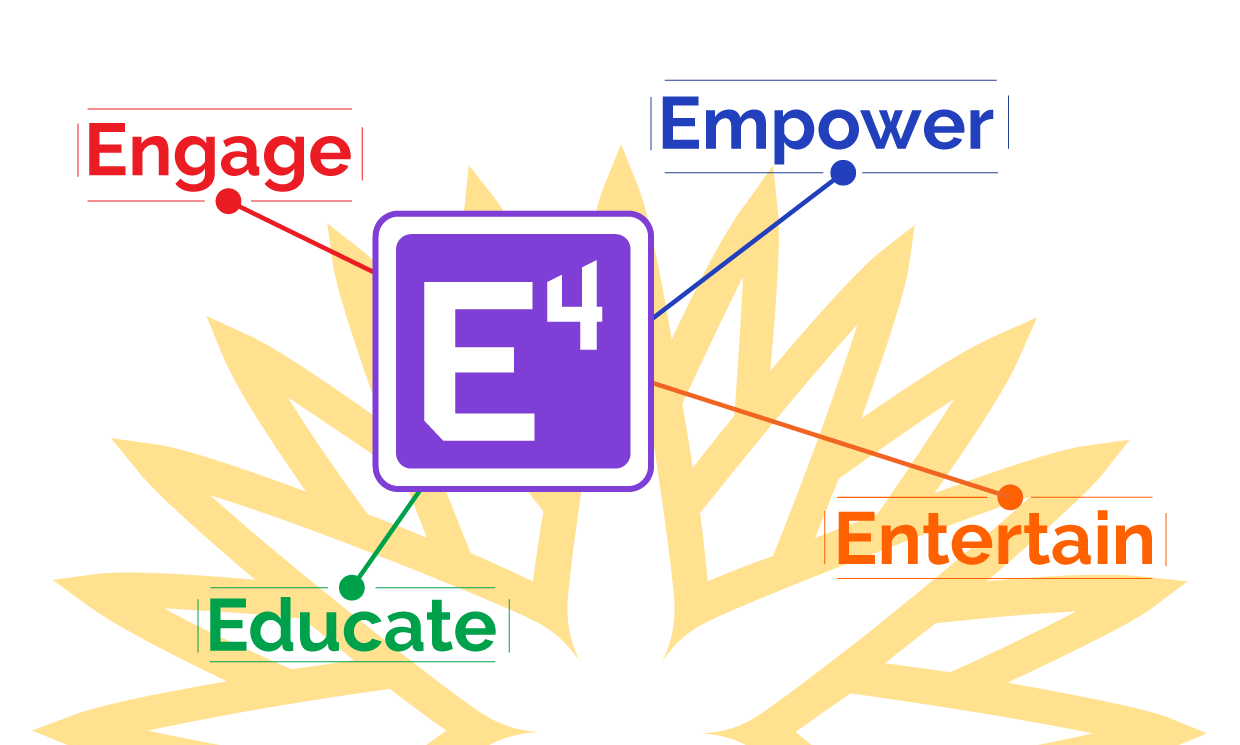 Social media is more than how many "likes" a page has. It's about creating an online face for your company, promoting your brand and networking with consumers and other professionals. Your businesses' page should be a hub for information about and relating to your business and its consumers.
At Stimulus Advertising we believe that social media should not be the whole of your media usage, but rather a portion of a cohesive multi-media solution to better your interaction and image with consumers and colleagues. Our philosophy for is simple. We follow what we like to call the "Four E's of Social Media" on all social media accounts:
Engage

It is important to have engaging content on social media. Social media is successful because it is a place where people can go to engage with one another; whether that is through laughing at a shared video, or commenting on a shared post. Dlvr.it states that 62 percent of millennials will become loyal customers of brands that engage with them. In order to create engaging content, you must first know who you are trying to engage as a company (i.e. a sports shop wouldn't target people who have no interest in sports). Knowing who your audience is—what they like, their interests and their passions—will help you generate content that will keep them wanting more. Ask yourself this question, "are my social media posts focused on those who invest time into my product or business?"

Entertain

Marketing Land states that humor is one of the simplest, most instinctive ways to trigger emotion. So why not have something funny to make your audience laugh? When people follow a business they want to see the face of that business, no matter how big or small. No one wants to follow a lifeless, boring, never-ending lecture. People want to see content that engages them and makes them laugh. Entertainment will have your followers coming back for more every time and will allow them to see the sense of humor your company posesses. Don't forget, whatever content you generate must relate to your brand.

Empower

Everyone wants to feel empowered, right? Well as a matter of fact they do; that is as long as it is done correctly. As a brand, you can have a lot of power and a lot of influence on your clients and followers. Wtth this in mind, it is important to create content that will empower or encourage your followers. For example, Nike's "Just do It," and Under Armour's "I Will What I Can." Empowering your audience will not only show them what you stand for, but will show them that you care.

Educate

Education is the last of our four E's. You should include generated content that educates your audience. Education can cover a multitude of things. For some, education will cover what is going on in the world. For others, education will cover new products or what the company is planning to do next. However you look at it, education gives your brand credibility and the chance to feed your audience targeted information.
Let us help you create a social media plan that will include the four E's of social media. We want to not only help you engage with your audience but through that engagement we want to help you entertain, empower, and educate your audience as well! Set up your appointment today and let us help you become the next social media guru.
Social media is about relaying relevant information and an attractive face to prospective and current clients. We know that partnering with our company is the first step in bringing your company into the fast-paced future that is social media.
We provide these tools to build relationships, maximize referrals and find new markets:
Effective messaging
Ongoing monthly support
Banner ads
E-Newsletters
Contests, Sweepstakes, Giveaway
News & Events
Timing
Web metrics
Friendly and approachable service
Dashboard & Trending tools
Stimulus provides various levels of strategy support for your social media needs:
Comprehensive Social Media Business Strategy
Internal Policy Guidance
Staff Orientation and Instruction
Social Media Seminars
Optimization of Existing Tools
Hands-on Construction and Implementation
We use all types of social media to expand your social presence:
Twitter, Facebook, LinkedIn, Pinterest, Instagram, Tumblr, Youtube, Flickr & Vimeo

1. Creation and Set Up
The objective of Stimulus Advertising's Social Media Setup package is get your business set up with a basic presence in the social media world and to brand that presence with your companies identity. This will include:
Create a Facebook page for your business, including:
Creation of a complete Facebook profile and cover picture and Installation of custom applications
Set up of galleries, Integration into management application, and Banner ad creation and campaigns
Ads and Advertising posts
Create a Twitter profile for your business, including:
A custom-designed Twitter background and profile picture
Custom auto-reply that will be sent to any new followers
Create a LinkedIn company profile for your business, including:
A corporate overview
Integration with your Twitter feed
Integration with your blog (if applicable)
Product or service listings


2. Audience Engagement
More than 4 billion videos are viewed on YouTube everyday. Twitter sees over 340 million tweets every day. And LinkedIn, with more than 175 million members, is the most powerful business-networking engine in the world. Beyond expanding the pool of possible connections to near limitless possibilities, social media is reshaping how we communicate, learn, entertain ourselves, participate in politics and public life, search for new employees, transact business, and company-consumer relationships. Today's audience expect and demand from businesses the ability social media offers to participate, interact and collaborate with your content, cause, or brand across multiple platforms.
3. Website Integration
These days, social media strategies must include integration with major social networking portals and for good reasons. There are one billion users on Facebook users, and the number keeps growing. Organizations can use tools for publishing information about their activities into social network portals as a means of leveraging that user base, and do so in a highly personal way that becomes part of the user profiles within those networks – This can all be part of an inclusive web and SEO (Search Engine Optimization) strategy. Using our content management system (CMS) we can integrate social media in many ways. From simple likes and shares to live galleries. Also, we use Twitter for feeds from organizations such as civic entities to make the latest news tweet immediately to their home page and followers.
4. Reputation Management
If you are a local business, you know that your social reputation matters. It changes how prospects see you with review sites like Yelp and Google+Local and how often loyal customers come back. Using social media allows you to broadcast your message to large groups, while still engaging 1-on-1 with your most vocal customers. Your dedicated social reputation manager will work with you to create focused social media campaigns, target influential social media personalities, and engage with local customers to raise your social clout. We research and find these niches and monitor feedback from customers. In some social media channels that we manage we provide services to delete or ban users that have aggressively negative or malicious posts.
6. Inbound Marketing
Inbound marketing is promoting a company through blogs, video, eBooks, e-newsletters, whitepapers, SEO, social media marketing, and other forms of content marketing which serve to bring customers in closer to the brand. In contrast, buying attention, cold-calling, direct mail, radio, TV advertisements, sales flyers, spam, telemarketing and traditional advertising are considered "outbound marketing". Inbound marketing refers to marketing activities that bring visitors in, rather than marketers having to go out to get prospect's attention. Inbound marketing earns the attention of customers, makes the company easy to be found and draws customers to the website by producing interesting content. Inbound marketing methodologies are used to reach potential customers at various levels of brand awareness. These tactics require a commitment in order to steer marketing efforts into increased opportunities, as it provides the prospect to both learn about potential customers and have potential customers learn about the business.
7. Advertising
Facebook and other social media channels provide a wide range of advertising opportunities. These are constantly changing and evolving . Pay-per-click (PPC) using ad roll services and retargeting can effect web traffic and social engagement. Events, Campaigns, Contests, Apps offer new ways to engage audiences. Facebook offers several different ways to promote your business. Facebook offers ads that range from Clicks to Website to encourage people to visit your website. Website Conversions that promote specific actions for people to take on your website. Page Post Engagement boosts your posts and increases your likes. Page Likes build your audience on Facebook. Event Response help promotes events for you. Offer Claims help promote offers you have created.
8. Campaigns/Contests/Sweepstakes/Customer Engagement
At Stimulus we create various interactive social media campaigns— All of which are targeted to get the desired action/reaction from your audience. You may be surprise how these tolls can cause massive growth to your social presence. Our goal is also to have insights on exactly the response so we can better determine ROI. Ask us about how we can change your social world! Below is a newletter sample of our design: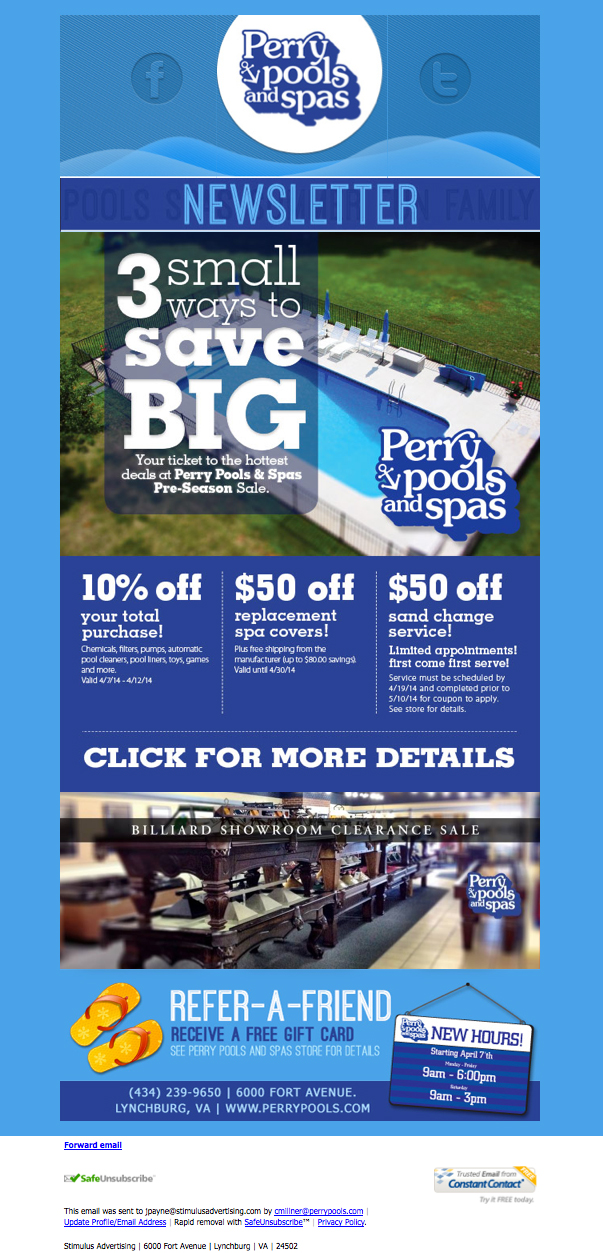 Social media today is much more than receiving "likes" and making "friends." It's about creating an online presence, promoting your company brand and networking with other professionals, clients and businesses. It allows you to create stronger relationships with people from every industry, all over the world, allowing you to expand your business and prepare for future growth.
At Stimulus Advertising, we believe that although social media seems to be the focus of the business world, it's just another form of media. It's just another way for businesses to reach customers, and as such, it can be easily understood and utilized in every industry and business sector. It's about building contacts, brand awareness and image recognition.
We don't judge the success of social media solely by the number of likes it receives, we look deeper at the reach of our social media tools to see how customers, business partners and other visitors are interpreting the information and reacting to the media campaign. Our goal is to build brand equity, and social media is simply one of the most effective ways to do it.
Web and Social Media Integration Made Easy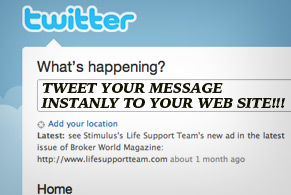 Intergating Social Media in live stream on your web site. Update one media such as Twitter and instantly it appears on your site. Just one of the many innovations that Stimulus can include on your next web site. Just hit your Smart Phone or iPod and its posted!
Social media is a great way to keep your web site content fresh and interesting. The search engines add value to sites that have feeds that arerelative to the searched subject. RSS feeds are still valid but the growth of Social Media and its cross integration now makes it easy and a quick way to get the most out of your communication efforts. Our CMS web sites offer easy fan links and modules that show both Twitter and Facebook feeds and also media sites like YouTube, Vimeo and Flickr.